I'm on Facebook. Feel free to friend me.




I really value your messages, your comments, all your support. And the invitations to make personal appearances. Thank you so much!

I can't tell you how meaningful it's been for me to read your messages. Thank you for taking the time to find the site, to read this far, to read the books and now to write to me. I know the effort involved and I'm most grateful and will do my very best to get back to you!
You can also follow me on Facebook if that interests you.




Being a member of the crime writing community is wonderful, and I feel it's so important to support each other - including the fabulous independent mystery bookstores who sell our books. If you'd like to buy my book from one of these stores, just click on the links at the top of my home page. You'll get terrific service, and be doing a service in return.

If you're an independent mystery bookstore and would like a link, please let me know. It would be a pleasure.




As many of you know, we have some book-related items that Danny and Lucy at Brome Lake Books sell. We try to choose carefully, and only quality. Thanks to My Assistant Lise, we've just added Vive Gamache sweat shirts (which I love and wear when I'm working - and when I'm not), and Three Pines T-shirts.

If you'd like to see the range of items, please visit the Brome Lake Books website. Alternatively you could email them : blb@b2b2c.ca or call them at 1-450-242-2242.






If you wish to receive emails from me sent from time-to-time with my very latest news and information regarding book tours etc, please subscribed to our new free Newsletter distribution service. My Newsletter is sent out on the 1st of each month.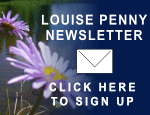 To view our Newsletter archive click here.






We've started the Chief Inspector Gamache Virtual Book Club! The idea is to re-read (or read for the first time) the entire series, from the beginning. If you haven't joined yet, and want to, you can hop in anytime. Here's the link. We'd love to have you there..

I really love libraries and book clubs. If you belong to either and would like me to come and speak, or make an appearance by phone please let me know.

If your book club is planning to read one of my books we have some discussion questions that you might find stimulating. Just click the book titles below to download them.
Book club questions

A Great Reckoning
The Nature of the Beast
The Long Way Home
How The Light Gets In
The Beautiful Mystery
A Trick Of The Light
Bury Your Dead
The Brutal Telling
A Rule Against Murder / The Murder Stone
The Cruelest Month
A Fatal Grace / Dead Cold
Still Life




THE BEAUTIFUL MYSTERY wins the Agatha Award for Best Mystery in the US! The award was given out in Washington, DC, May 2013.

Diana Belchase, a videographer, recorded the Agatha event.
Louise Penny reads from her book 'Still Life' to members of the One Book One Island Book Club.

The PEI Public Library Service chose her book for the 2011 One Book One Island Book club, and Louise visited the Island to meet her fans.

Barnes & Noble Tagged - Molly Pesce talks with Louise Penny, author of the latest B&N Recommends - The Brutal Telling
Interview with Laura Wilson, , Macmillan Audio - Bury Your Dead book (audio only)
Fran Stoddard talks to Louise Penny about her inspiration while growing up and then also what inspires her now.
2010 International Festival of Authors
Crime novelist Louise Penny details her journey from CBC Radio personality to author.
Voices in Mystery - interview with Nancy Carlson
Louise Penny is interviewed by Barbara Peters of Poisoned Pen Press and Bookstore, Arizona (part 1 of 6)
Bury Your Dead Audio clip - Read by Ralph Cosham
A Rule against Murder Audio clip - Read by Ralph Cosham




So many people have written to compliment me on the website, and I wish I could take credit. Well, actually, I do sometimes. But the truth is, it's designed by Linda Lyall. Gary Matthews, a friend in Sutton also took some of the pictures, as did Michael, my husband in Sutton, and Jacques Laurent, a wonderful photographer in our area of Quebec's Eastern Townships. His website is: www.jacqueslaurent.ca